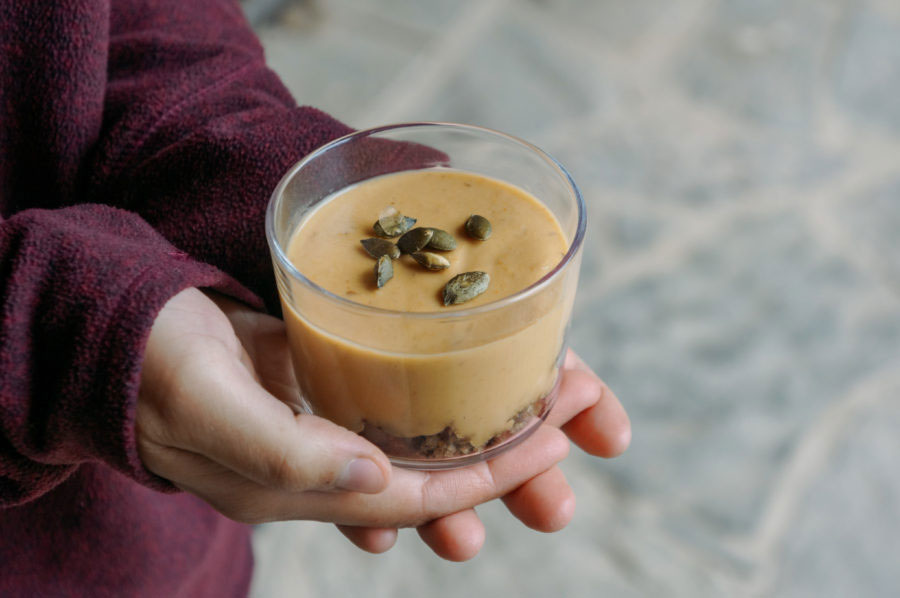 17 May

Healthy fruit custard with crunchy surprise
Healthy fruit custard with crunchy surprise
A healthy and vegan custard made with ripe fruit and biscuits or old sponge cake.Easy and satisfies all palates!
Equipment
Hand blender or food processor (necessary)

Whisker (recommended)
Ingredients
500

g

ripe fruit – we used peach and apple

5

dates, seed removed

3

tbsp

rice flour

Biscuits or old sponge cake

Pumpkin or sunflower seeds, to decorate
Instructions
Set about 3 cups of water to boil in a kettle or small pot, we will use this to soften the dates.

Set a large pot to low heat and add the chopped fruit. Pour some water, stir well, cover and let simmer for about 5 minutes.

Chop the dates in half, remove the seeds and add to a small bowl. Pour the boiled water and let them soften for 5 minutes.

Once the dates are soft, chop them finely and add to the fruit pot. Cook for 10-15 minutes at low heat or until the fruits are soft and mushy.

Remove the pot from the stove and blend the fruits well with a hand- or juice-blender. Add the creamy mix back to the pot, add the rice flour, stir well (if possible with a whisker, until there are no lumps), cook at low heat for about 10 more minutes.

In the meantime, chop the cookies or old cake roughly and set a pan to medium heat. Add the chopped pieces and cook until golden and toasted (not burnt!). Remove from heat and save.

Once the fruit and flour are cooked, blend again to smoothen out any lump, achieving a creamy silky texture.

Prepare small glasses or bowl and get ready to plate: using your hands, break the cookie/cake pieces into crumbs and add to the bottom of each glass, then pour any desired amount of fruit custard into each glass.

Let the custard sit in the freezer for 30 minutes, then transfer to the fridge. If you have time, let them sit in the fridge instead for a whole night (8-12h). To serve, top with a few seeds (we used pumpkin) and enjoy!