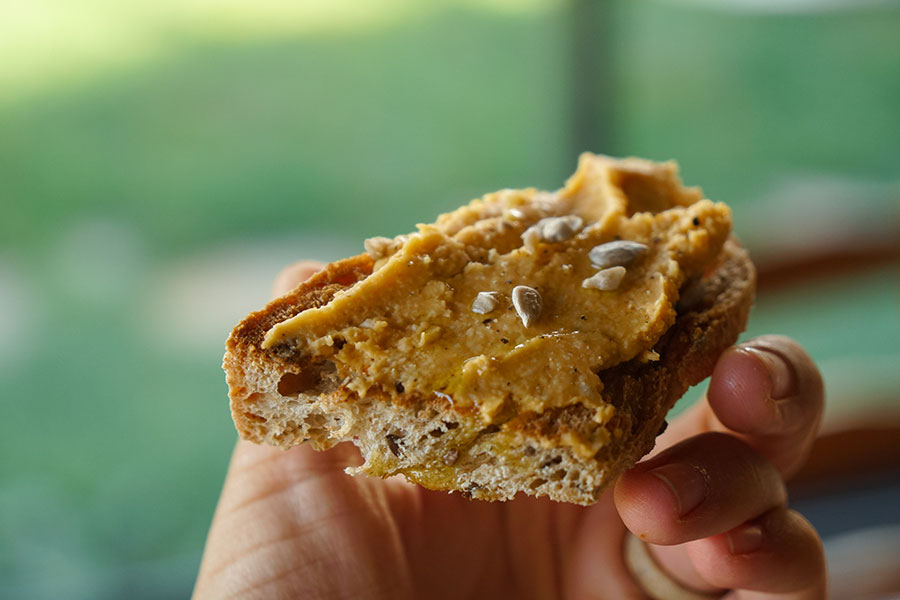 07 Nov

Sweet potato paté

Sweet potato paté on toasted bread, drizzle of olive oil and sprinkle of sunflower seeds.

At Casa Cuadrau we have a love – some would call it obsession – for patés. Paté (French for "paste") is traditionally served baked in a crust (en croûte) or molded as a terrine, it has a spreadable texture. Normally, it is a mixture of seasoned ground seafood, poultry, meat, or vegetables, and often a combination of several different base ingredients.

Since we love "spreadable pastes" but we don't use fish or meat, it is very common for us to find combinations of plant-based ingredients that can create a vegan alternative. Savoury, delicious, smooth and nutritious are the main traits we are looking for in any of the patés we make.

The one we share with you today is a sweet potato-based paté that we have been preparing in the last couple of retreats, since sweet potato season is (finally) here. A simple enough recipe that will hopefully make everybody's sandwiches, salads, pastas, rices and lives much tastier. Enjoy!

4 medium sweet potatoes
1 medium white/red onion and olive oil (to cook)
1 cup sunflower seeds
1 lemon, juice
Salt & pepper to taste

2 cups boiled chickpeas (optional)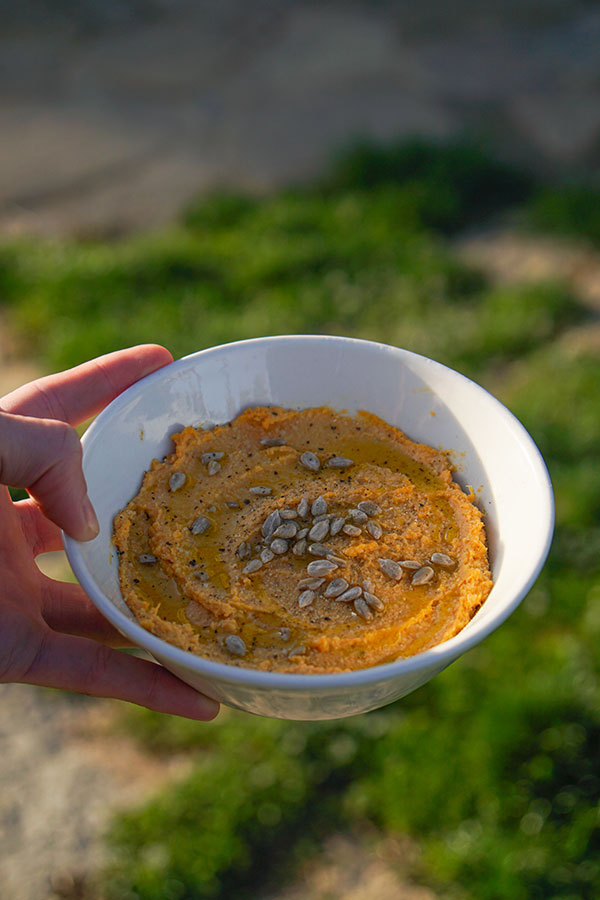 Start by filling a pot with water and bringing it to a boil. In the meantime, peal and chop the sweet potatoes into regular-sized pieces. Once the water is boiling, add to the pot and cover. Cook until you can smoothly stick a fork in a piece of sweet potato.
While they boil, bring a pan to medium heat, pour a drizzle of oil. Chop the onions into fine half moons and once the oil is hot, add the onion and stir well. Add some salt to soften the onions, stir again. Cook until they become soft and golden. You might need to reduce heat to low, depending on your heat source.
Add the sunflower seeds to the pan with onions, stir well and cook at low heat until the seeds are slightly toasted.
Using a food processor, add the boiled sweet potatoes, onions, seeds, lemon juice, black pepper and chickpeas, if you choose to use them. Blend well until your desired texture – some people like patés ultra-smooth, others like it when it's a little chunky and more rustic. Taste and adjust with more salt if needed.
Store in a sealed container in the fridge and consume in the next 3-4 days. Bon appétit!