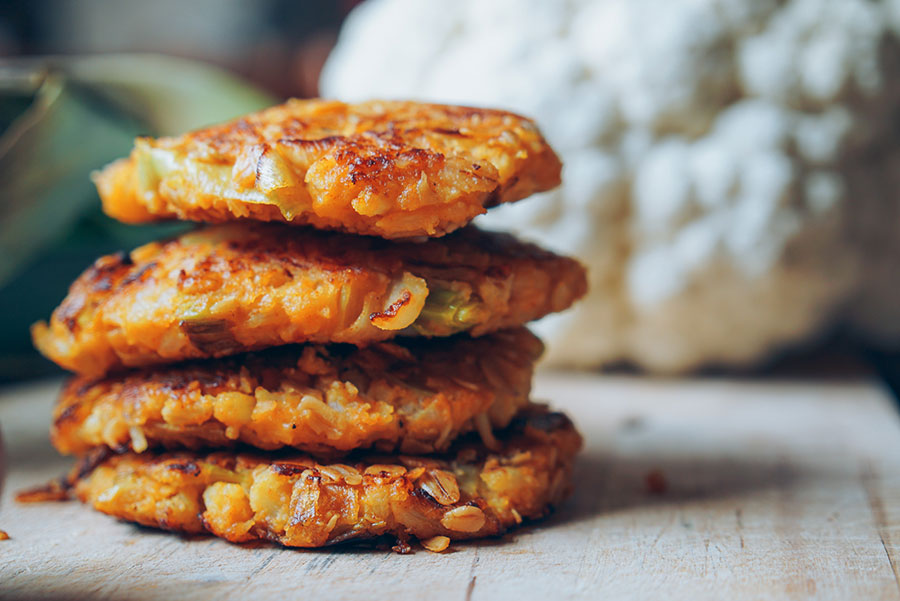 10 Jun

Cauliflower, Leek & Oat Burgers

Leti, one of our incredible Karma Yogis, prepared these veggie burgers for us a few days ago and we loved them so much that we decided to include the recipe in the blog. At Casa Cuadrau we truly enjoy the entire food process: going to the market to see, touch and buy the ingredients; arriving to the kitchen and preparing a meal with a lot of love and, finally, giving thanks Mother Earth for providing us with so much, the plants, the people who made it possible for us to access the ingredients and the people who transformed them into a magically delicious dish. Conscious eating also means listening to our bodies, being honest with ourselves and enjoying the food without overeating and feeling extremely full.

We hope that you like our recipe. If you prepare it at home please do share it with us on the comments section here below. And now… time to enjoy these beautiful burgers!
Cauliflower, leek and oats veggie burgers
Delicious and nutritious veggie burgers made with cauliflower, leek and oats. An easy, simple and vegan recipe.
Ingredients
Virgin olive oil

1

medium cauliflower, coarsely chopped

1

medium onion, finely chopped

3

garlic cloves, finely chopped

2

leeks, chopped

10

tbsp

gram (chickpea) flour

Water, enough to mix with the flour and obtain a creamy pancake-like batter (egg substitute).

Salt, to taste

1

tsp

black pepper

OAts, to coat with at the end
Instructions
First, we chop the cauliflower and steam until al dente. We recommend not to boil, as it will become very humid and wet. In the meantime…

Heat up 1-2 tbsp of olive oil in a pan, at low heat. Add the chopped onion, leek and cook for 2-3 minutes, then add the garlic.

Chop the steamed cauliflower in smaller pieces so it integrated better with the rest of ingredients, and add it to the pan once the onion and garlic become soft and slightly golden. Sauté for a few minutes, turn off the heat and set aside to cool down.

Now, let´s make the "vegan egg". In a bowl, add the chickpea flour and start adding water and mixing with a fork. Add water until you get a consistent batter, not too liquid.

Once the veggies have cooled down, add the vegan egg, gradually, while mixing it all well. Add "egg" until you achieve a homogenous dough. If you have time, set the burger dough in the fridge for 1h to let it cool down even more, this will easen the process of shaping the burgers.

Pour the oats in a bowl. Take a small ball of dough and shape it into a burger, coat it well with oats, on both sides.

You can cook the burgers in the oven or on a pan. We used a pan in order to get that crunchier outter layer and chewy softer texture inside. Set a non-stick pan to medium heat, pour a tiny bit of olive oil, and once hot, cook each burger, about 2-3 minutes on each side or until they become a golden brown colour.