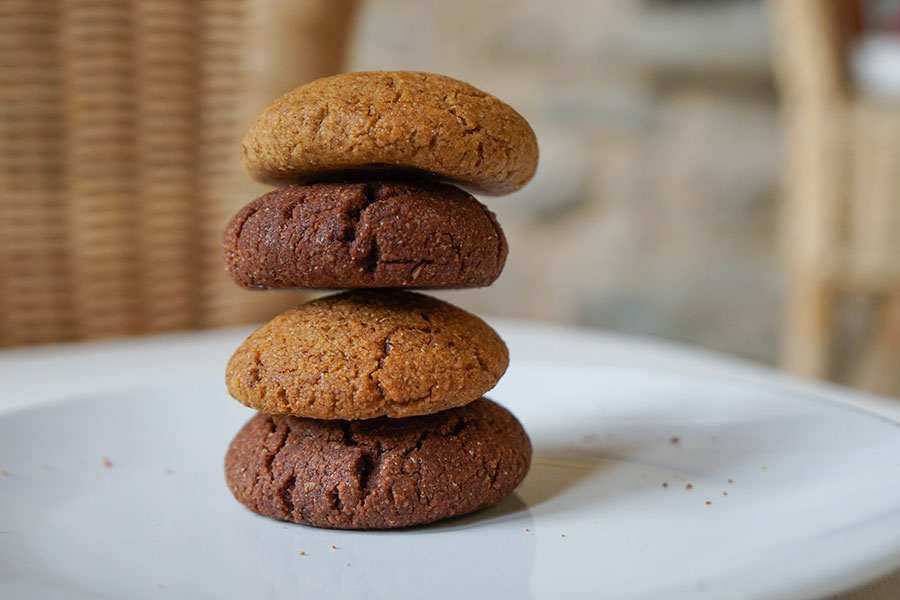 12 Jul

Chocolate and Ginger Biscuits

These biscuits are a sweet crunchy form of love. Jessie Rae, also known as the master of sweets here at Casa Cuadrau, has prepared these biscuits a couple of times over the last few weeks, both for the team and the participants, on arrival day. She has a special talent when it comes to desserts and sweet treats that are also healthy and made with natural unprocessed ingredients. These cookies, in particular, are gluten-free and vegan.

Why did we name them July 8th biscuits? We often ask her for the recipe or the ratios of her preparations, the answer to which, most of the times, is a shoulder shrug and a smile that lets us know that the dessert was freestyle and that there is no actual recipe guiding the outcome. The biscuits made on a given day are, quite literally, unique and never quite the same as the ones prepared, say, the previous week. There is something beautiful and free about baking in this way but, those of us who want to learn and have little experience doing it, like using a map a.k.a. a recipe.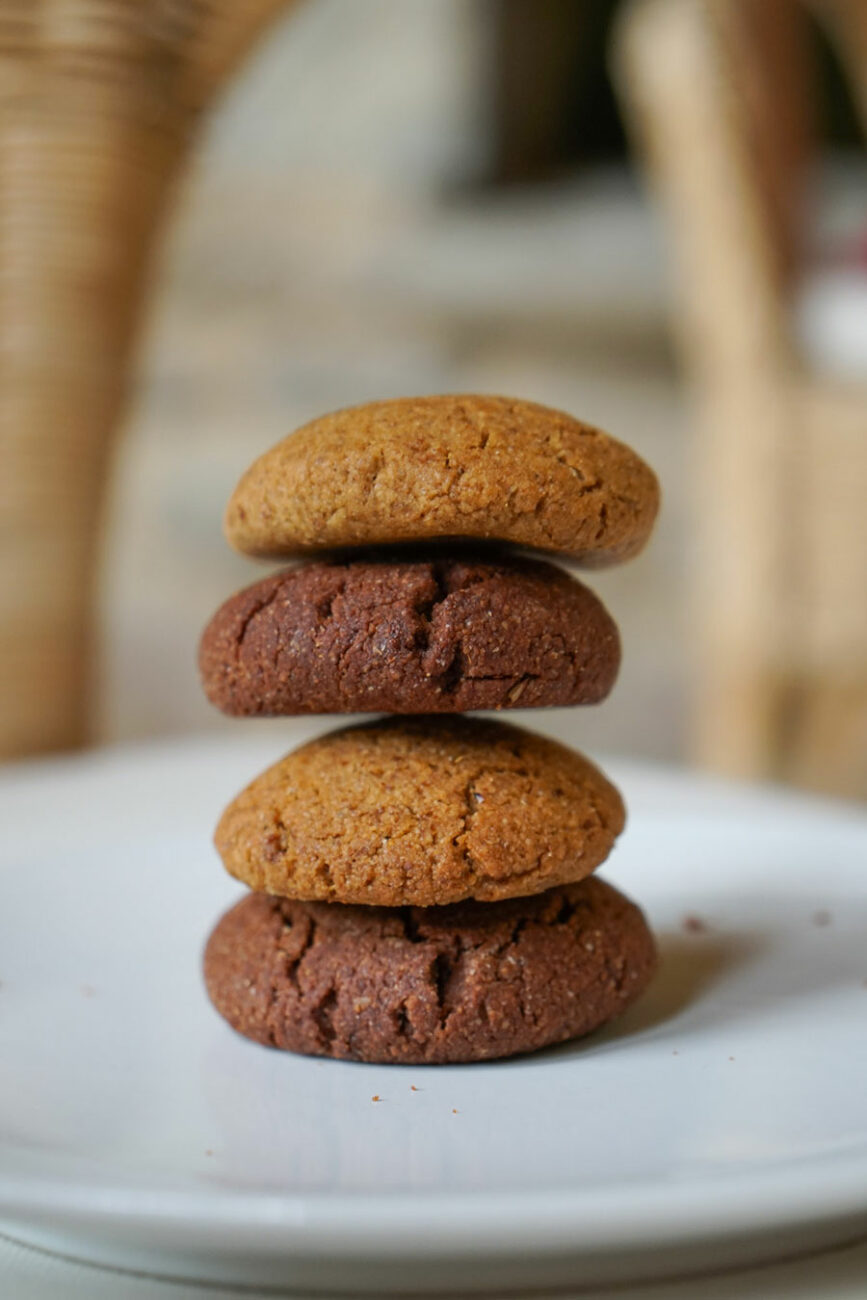 So, this week, when Jessie set herself to make a new batch of biscuits, Liz grabbed a pen, notebook and an apron, ready to watch and learn. She took note of quantities and steps so, thanks to that, we can now share with you the recipe for the 8 of July 2019 biscuits.
We hope you enjoy them just as much as we did. If you do try preparing them at home, let us know how they turned out and how long they lasted before being eaten (or hidden) by your hungry family/friends!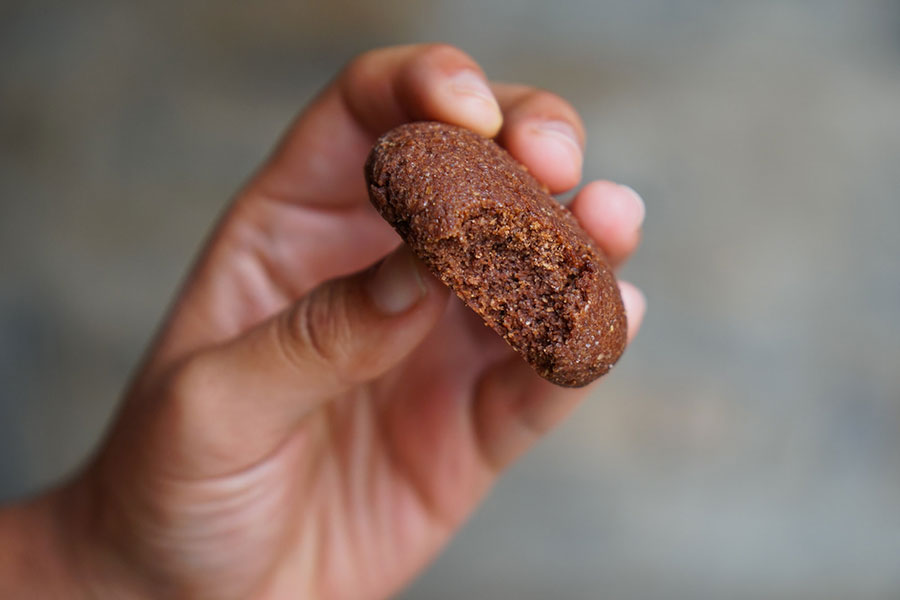 Chocolate and ginger biscuits
Equipment
Juice blender, Vitamix, or similar

Oven
Ingredients
Biscuit base dough
3/4

cup

flax seed flour

(grind the seeds until they become a flour)

4

cups

oat flour

(grind oats)

3

tsp

baking powder
Ginger biscuits
2

tsp

ground ginger

2

pinches

cinnamon

1/2

cup

syrup

(agave / tapioca / dates…)

1/2

cup

sunflower oil

2

tbsp

mascavo sugar

70

ml

plant-based milk

(oat / rice / almond…)

1 1/4

cups

rice flour
Chocolate biscuits
2

pinches

cinnamon

1/2

cup

cocoa powder

1/2

cup

syrup

(agave / tapioca / dates…)

1/2

cup

sunflower oil

3

tbsp

mascavo sugar

70

ml

plant-based milk

(oats / rice / almond…)

1 1/4

cups

rice flour
Instructions
Preheat the oven at 160ºC.

Mix all the base dough ingredients in a large bowl, then separate the dough in 2 equal parts and place in 2 bowls.

In one of the bowls, add the ingredients to prepare the ginger biscuits. First add the dry ingredients, then the wet ones. Mix well with a spatula or large spoon.

In the other bowl, add the ingredients for the chocolate biscuits., first the dry, then the wet. Mix well.

Place baking paper on one or two baking trays, whatever possible and necessary. Using your hands, form small balls of dough (golf-ball size), gently flatten with your palms and place on the tray. There should be about 50-55 biscuits formed, depending on the size.

Place the tray(s) in the oven and bake for around 20 minutes. When half of the time is over (10 mins) check the oven to see how the biscuits are doing. Depending on the oven, preheat time and the size of the biscuits, it is possible that they need more or less than 20 mins. It is useful to be present and aware while they're baking!
Notes
Notes: The ingredient units are in cups, tablespoons (tbsp) and teaspoons (tsp). If you don't have measurement cups at home, you could use a regular cup that you might have. If you preferred to be precise with the ingredient amounts, you could also use a
cups-to-grams converter
.